We were excited to read the reviews on Juno's Rhythm Adventure and how children are turning everything into musical instruments!  To read the complete review, click "continue reading" below:
Juno Baby: Early Music Education for Developing Minds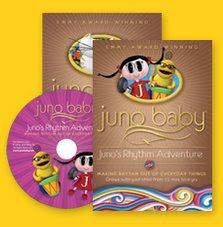 Like a lot of children, my son Brody is a music fanatic. He loves his music class, he turns everything into an instrument and the second he hears music on a commercial or show he immediately is glued to the TV and starts bopping up and down. 

This is exactly what he did when we received a DVD from Juno Baby: Early Music Education for Developing Minds. If you haven't heard about them yet, Juno Baby is this great innovative music and media company that has created wonderful DVD's, CD's, & books. Dr. Belinda Takahashi, the company's founder, created this Emmy Award winning product line from original orchestral compositions. 

Juno is the main character, and her and her friends are interactive. They speak directly to your child to get them clapping and playing along. Juno creates a world of discovery and imagination for your child to stimulate their higher thinking levels while just having fun. Juno Baby is recommended for children 12 months to five years, but I think even if you don't plop your child in front of the TV; just the background noise can be beneficial for children younger then a year old. 

Also, as if you needed even more incentive to try one of their products, for every Juno Baby DVD, CD, or book purchased by you, Juno Baby donates the same product to a child who otherwise cannot afford to purchase one. So as you are watching your child enjoy this fabulous DVD, you can think that you are also giving that joy to another child in need. 

How amazing is that?!? 

This is their Juno Baby One For All Program they recently launched that supports their belief to give the gift of music to young children everywhere. 
Their goal is to give away one million DVD's, CD's, and books in 2010. 

You can also continue to check their website www.junobaby.com to see how they are doing in achieving this goal.